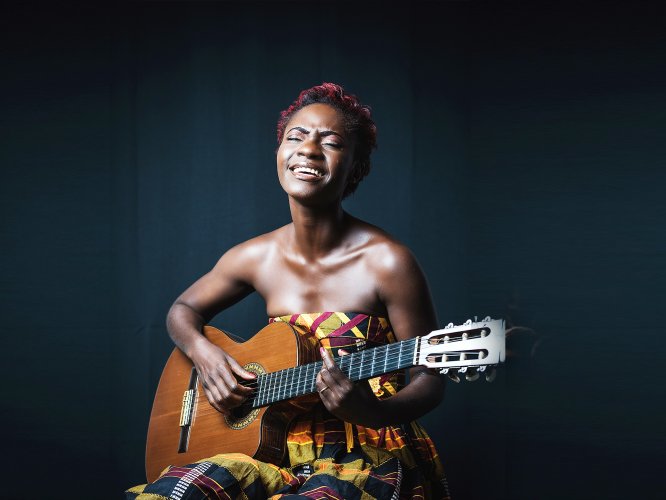 On April 24, 2020 at 8pm at the French Institute of Cameroon, the Cameroonian singer, Gaëlle Grâce Wondje Banga, known as Gaëlle Wondje will present her new album, entitled "Artibano, juste une étincelle". A tribute album to the Belgian songwriter, ARTIBANO, which is the result of the meeting between Artibano's variety songs, which are mainly about LOVE, and Gaëlle Wondje's smooth voice.
Eager to share and experience new things, Gaëlle met ARTIBANO at MIDEM 2019 (International Market for Music Records and Publishing) in Cannes, France. It was artistic love at first sight. They share the same vision of music as a universal language in a world that has become a "global village".
Gaëlle Wondje, a Cameroonian musician, was born on June 12, 1983 in the town of Nanga Eboko, in the Centre province of Cameroon, to a guitarist father. She has been immersed in the Cameroonian musical universe since her childhood. After the high school orchestra, she quickly joined the university orchestra as Lead Voice and won the inter-university singing competition UNIFAC (Jeux Universitaires des Arts et de la Culture) with the University of Buea, South West Cameroon, in 2002.
At the end of her studies in bilingual literature, she participated in December 2004, in the first reality TV singing competition in Cameroon, LACLASS, and won the first prize thanks to her incredible talent. In 2005, she made her first national tour as a chorus girl with the Cameroonian singer and musician, André Marie TALLA. Then, in 2009, she went on another national tour of the French Institutes of Cameroon, this time with the singer-musician Charlotte DIPANDA, still as a lead singer. She did another tour to accompany Manu DIBANGO on backing vocals, and then embarked on the adventure of the TV show Star de Demain.
In fact, from 2009 to 2011, she worked with the audiovisual production company SISAROMA as a Vocal Coach and Program Coordinator in Côte d'Ivoire and Cameroon, in the context of the reality TV singing competition show "Star de Demain". She finally feels ready and releases her first album in November 2011. It is entitled "M comme Aimer".
In July 2015, she released a single in duet with the Congo-Belgian artist Sissi Mananga, entitled "Femme Africaine". Then, the second album followed in 2017, "ENING" – life, where she had an almost immediate success. She sings in French, English, Douala, Bakaka and Nanga languages. Married with three children, she draws on the love, gratitude and peace that her passion for music gives her to enrich this album. She has already organised 4 live solo concerts at the IFC in Douala and Yaoundé to present her album to the Cameroonian public and participated in March 2018 at MASA (Marché des Arts et du Spectacle d'Abidjan) in Côte d'Ivoire.
For those who know the career and art of ARTIBANO, this Belgian publisher, producer, composer and performer, it is a safe bet that this work will be of great quality.
ARTIBANO, a non-conformist artist, has been able to combine dreams and actions throughout his career, as in 1995 when he tirelessly scoured the public markets, selling as many CDs as he was in a good mood. He distributed a pseudo-CD at MIDEM (in reality with a condom) and then recorded a maxi CD ("Pour toi"), proof that his career was taking a turn towards social commitment. To get his message across, he does not hesitate to dress up as a clown and other characters.
In 1999, the artist inaugurated a reception centre in Jolimont for low-income people. At the same time, he marketed a best of, "Storia di una artista" and taunted music piracy by breaking the price of his CD (5 €). At the end of the year, he became the plaything of a controversial "Strip-Tease" show that left him bruised. Gaëlle Wondje's new album is promising!